Unmatched Engineering and Lease Experience
Industry Insiders Working For Property Owners
Hands-On Cell Tower Design and Leasing Experience
Former Wireless Carrier Employees Working For Property Owners
One-Stop Shopping Cell Tower Consulting Firm
Unmatched Cell Tower Engineering
and Leasing Experience
Industry Insiders Working
For Property Owners
Hands-On Cell Tower Design
and Leasing Experience
Wireless Carrier Employees
Now Working For Property Owners
One-Stop Shopping Cell
Tower Consulting Firm
One-Stop Shopping Cell Tower Experts
Property owners nationwide trust Terabonne's 25 years of hands-on cell tower leasing and engineering experience. Terabonne's wireless expertise was forged from working as employees and consultants for wireless carriers like AT&T, T-Mobile and Verizon in wireless engineering, cell tower lease negotiations, zoning, construction and technical operations. Today, all of our experience, industry contacts, and expertise are applied to benefit our property owner clients involved in new cell tower and rooftop builds, lease extension negotiations, lump-sum cash buyouts, and resolving disputes involving 
 and 
You've been approached. Let's use engineering, legal, and insider experience to control the negotiations.
Extend your tower lease smartly. Let's modernize all the terms and discover any violations. Don't just focus on the rent alone.
Seek highest lump-sum bid prices for your tower income. Sell the property but keep the tower rent.
Wireless tenant wants you to sign a 1-page approval letter? There's so much more to site modifications.
Unable to get the billion-dollar wireless tenant to respect your land? Bring in the big guns.
Imminent domain, tower relocate, lease terminations, wireless portfolio management. Let's explore your options.
Terabonne seeks to deliver the highest level of professional telecommunications services to our property owner clients with utmost integrity.
We seek to maximize our clients' long-term financial gains while protecting their interests by applying our insider hands-on engineering, legal and technical expertise to represent our clients' full range of cell tower ground lease needs.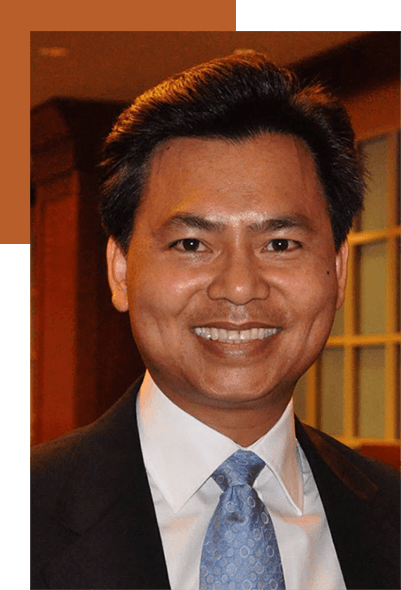 Tung Bui, President of Terabonne, Inc., has spent his entire professional career in the telecommunications industry since graduating from electrical engineering school in 1988. In 1995, after spending seven years with US West Communications (an AT&T baby Bell) building fiber-optic telecommunication networks connecting major cities on the West Coast, Tung joined the wireless industry when the FCC began to auction wireless spectrum licenses to experiment with cellular communications. This was Day 1 of the modern-day cell phone industry. Tung served as T-Mobile's Executive Director responsible for RF engineering, cell tower leasing, zoning, and construction when it began as a start-up company named Western Wireless. During his 14-year tenure with T-Mobile, Tung helped shape the wireless industry's cell tower leasing practices, signed thousands of cell tower leases on behalf of T-Mobile, and led teams of RF EngineersRadio Frequency (RF) engineers specialize in the radio wave propagations. These are the engineers who define cell tower designs and locations., Site Acquisition SpecialistsA person hired by the wireless carrier to contact property owners to discuss lease terms. This role has evolved to be landlord facing rather than lease negotiations. , Wireless Lease Attorneys Attorneys retained by wireless carriers are authorized to review legal terms but never allowed to negotiate technical or financial terms of the leases because they lack the technical skills and are not involved in business decisions., and Tower Developers Companies who build cell towers then lease tower space to wireless carriers. These companies almost always receive Search Rings from wireless carriers defining where the carriers need towers to be built. to construct and grow T-Mobile cell tower infrastructure across the U.S.
Engineering and Legal Expertise In One Company
With an electrical engineering degree from Oregon State University, a law degree from Northwestern School of Law at Lewis and Clark, and 14 years as T-Mobile's engineering and real estate development executive, Tung founded Terabonne in 2010 to provide engineering and site development services to wireless carriers. In 2015, Terabonne shifted its focus exclusively to wireless property owners when Tung recognized a need for experienced cell tower experts who could properly represent landlords facing the wireless carrier giants. Today, armed with a team of engineers, legal staff, tower lease negotiators, and project/property managers, Terabonne is the industry leader and authority in representing individual and corporate landlords.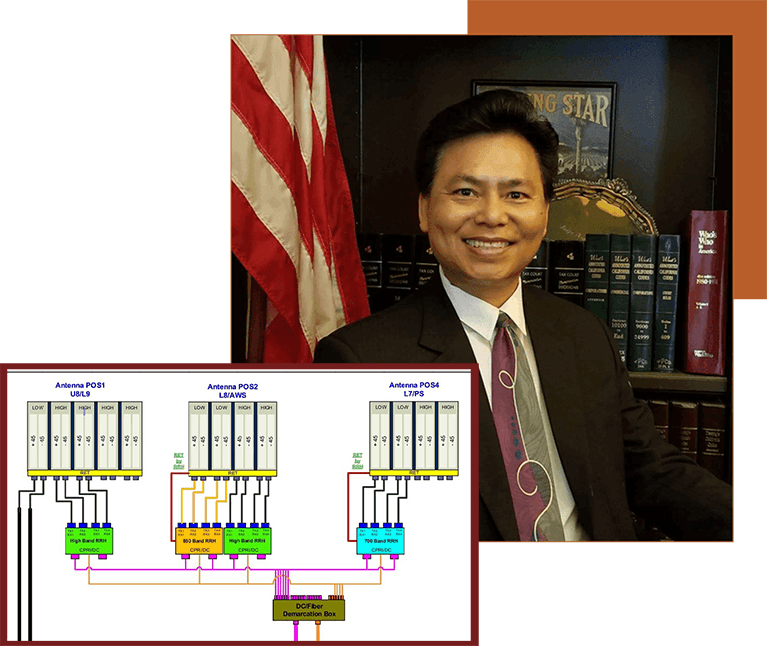 Cell Tower Lease Negotiations
Many property owners who have been offered a cell tower lease by wireless carriers, or want to extend their existing tower lease, believe all they need is assistance with lease negotiations from a leasing consultant. This is far too narrow of a view. The lease is merely one of the many components a qualified consultant must address to protect the project and property owner's interests. Terabonne is the "one-stop shop" cell tower lease consultant that handles everything tower-related for property owners. Intrusive testing and liabilities, tower designs, structural loading, perpetual squatting, heavy equipment usage and road repairs, radio frequency interference and liabilities, access and easements, zoning conditional use permits, correct rental rates based on propagation modeling and coverage predictions, additional future income, limitation of use of property, etc… all require industry engineering and operational experience with legal expertise in order to properly represent landlords. We charge our clients nothing for this full service until the project is complete to our clients' complete satisfaction. Please read on to better understand why our clients are thrilled to have Terabonne resolve so many of their engineering issues while we also negotiate their cell tower leases.
When property owners hire Terabonne, they are getting the expertise of an organization that has decades of experience working with wireless carriers such as T-Mobile, AT&T and Verizon designing, leasing, zoning, permitting, constructing, and operating cell towers. Whether you need a new cell tower lease negotiated, or your 25-year old tower lease needs to be extended, we at Terabonne are uniquely qualified to help landlords navigate a wide range of wireless income opportunities. We accomplish this by focusing our team's wireless experience to negotiate the best cell tower lease terms with the least amount of legal risks to assure project success for our property owner clients. 
Terabonne will not hesitate to redesign a cell tower or rooftop site if the wireless carriers' designs are not in our client's best interests. That's exactly what Tung Bui did for New York real estate attorney Jonathan Gottlieb, who hired Terabonne to represent his apartment complex. For Bus Hudson, who owns farmland in Idaho, Terabonne re-designed the tower placement, access easements, and road requirements to better fit Mr. Hudson's future property plans. Our goal is to make sure site designs respect the property owners' current and anticipated use of their land while improving the likelihood of securing zoning approvals for the cell tower project. By discussing and understanding our clients' long term use of their land, we avoid future potential issues for our clients. Terabonne's cell tower designs are also supported by Verizon, AT&T, Dish Network and T-Mobile alike because the designs respect the wireless carriers' RF engineering and operational requirements. Simply put, to modify cell tower designs that satisfy the needs of our clients and the wireless carriers' engineering and operational requirements require highly specialized skills. Terabonne is the only one-stop firm that handles it all.
Landlords Need Engineering Representation
Terabonne's engineering expertise assures that our property owner clients are well-represented on engineering, technical, contractual and operational matters. Whether structural loading, communications links, sound attenuation, RF propagation, power systems, core drilling, equipment sizing, easements, zoning restrictions, or access road maintenance requirements, these all require civil, electrical and structural engineering expertise. Terabonne offers full engineering and lease negotiation services to our clients because our 25 years of hands-on wireless experience tells us cell tower leases cannot be negotiated properly without a full understanding of engineering aspects of the project. 
Excessive Use of Property Will Be Pursued
To go after a $206 billion company for this much money, your engineering must be rock solid, your legal arguments must be irrefutable, and your name must be well-respected. This is why property owners hire Terabonne to do much more than just negotiating their tower leases. We turn every lease inside out. We study the engineering, surveys, electrical drawings, taxes, tower designs, contract terms, easements, landlord hidden rights, equipment restrictions, etc… To stand up to a giant, we do not need to be the same size. We just need to be smarter. That's why smart landlords and businesses trust the Terabonne name nationwide.
Happy clients who feel protected and profitable is our end goal. At Terabonne, our objective is to always anticipate the wireless carriers' and tower developers' every move and partner with them to build cell towers faster, safer, better, and most profitable for our property owner clients. Tower developers are never our opponents. We use our wireless carrier engineering contacts to help them be most profitable on our clients' properties. This is important to us because the way we negotiate cell tower leases, the more profitable the tower becomes, the more income our property owner clients earn.  And that's good for everyone involved.
Our Clients Are Protected On All Fronts
All wireless carriers and tower developers have Site Development departments to manage their cell tower development programs. Their teams include: lease representatives who interact with landlords; zoning specialists who understands zoning codes; construction staff; operations specialists; environmentalists; biologists; architectural and engineering designers; compliance staff to handle a range of local, state, and federal regulations; real estate managers who review business terms; and finally legal staff to review the legal terms. Note that only a small area in the Site Development process involves leasing. To be on a level playing field with wireless carriers, property owners must have consultants that match or exceed the carriers' skill levels in all areas of development, not just "lease negotiations" alone. This is where Terabonne's full-service expertise benefits our clients every step of the way.
Cell Tower Lease Management
A cell tower is a living technology structure that continually advances to support the telecommunications evolutions we've experienced from brick phones to smartphones today. We are currently witnessing 5G (fifth generation) technology upgrades, meaning that the tower and its related electronics, cables, antennas, power sources, and structures have supported the upgrades of five generations of wireless telecom technologies. Property owners who successfully maximize their wireless income potential must actively manage the cell tower through the life of the lease. After a cell tower comes on-air and becomes operational, our tower management work continues over decades to enforce the terms of the lease, introduce and collect additional income as opportunities arise, and protect landlords' rights from wireless tenants' encroachments.
Terabonne has a unique advantage as consultants to property owner landlords. We have decades of hands-on insider wireless carrier experience in engineering, law, and real estate to make sure our clients' interests are protected. We stay with our client's projects from start to finish, even after the lease has been signed and the cell tower has been built. Additionally, we are involved in all aspects of our clients' cell tower development process.  
As established consultants, wireless carriers and tower companies are accustomed to working with Terabonne. Our clients benefit from our industry reputation and successes in turning the seemingly complex field of high-tech real estate into safe and profitable opportunities. So, why Terabonne? Because we do it all; saving you the headaches and surprises, while increasing your income and peace of mind knowing that our full-service industry experts are on your side.
Why Engineering and Cell Tower Leases Go Hand-In-Hand.
Well before you are presented with the need for a cell tower on your property, the wireless carrier has been trying to solve a number of engineering problems. These include dropped calls, bad coverage, poor spectral utilization, interference and slow data throughputs. The cell tower is a component of a larger wireless network. Without an understanding of the big picture, it is difficult to recognize how valuable your site is to the entire system. This is where Terabonne comes in. Our actions are guided by our hands-on industry experience in all the required disciplines of cell site development. We properly negotiate every cell tower lease with a solid understanding of the engineering and legal aspects of your specific cell tower application. This is how Terabonne consistently helps property owners realize safe, rewarding and strong cell tower income for decades to come. When it comes to high-tech cellular tower leasing opportunities, let Terabonne's team of experts protect you entirely.
What Will Hiring Terabonne Cost You?
Short answer: Nothing. Terabonne only charges a fee after we have secured satisfactory income for our clients.  Terabonne consistently delivers higher rental income and values to our clients even after accounting for our fee. Terabonne does not require a flat rate nor do we charge a retainer fee. We do not charge by the hour. We do not charge clients for speaking with us.  We only earn a fee when our clients get paid.  That's an unheard of guarantee in any industry.  That's confidence.
Many property owners tell us that their "consultants" charged them tens of thousands of dollars to negotiate their leases, but the towers never got built.  That will never be the case when Terabonne is involved as we are only compensated when the tower gets built.    
In fact, clients have told us that it would have cost them lots of money not to hire us! Terabonne's core belief is that our goals must be aligned with our client's goals; that we are aiming for the same results. It is typical for us to spend days or even weeks at no cost to our prospective clients to understand their needs fully and to discuss strategies before taking on their projects. All of our clients make more money by hiring us. Please call us to find out how we can assist you.
Property Owners Benefit from Terabonne's Hands-On Experience
Let's Explore Your Tower Situation Together
Property owners who retain Terabonne consultants can be assured that they'll end up with cell tower leases that meet their property use requirements for decades to come and generate considerably higher cell tower income.  Terabonne supports our tower projects throughout the engineering designs, negotiations, leasing, construction and growth phases. We deliver substantially more than just negotiating the lease.  If you want transparency, integrity, and experience, please contact us anytime.