Types of Cell Towers & Cell Tower Designs

In the order of popularity, here are the types of cell tower structures and why they are selected by wireless carriers.
The Monopole Cell Tower
The Monopole Cell Tower is made of galvanized steel and designed to stack sections on top of one another until they reach the desired heights.  The taller the tower, the larger the foundation, often reaching 30-feet below the ground surface to support the monopole once fully loaded.  This is the most favored tower because it takes up less space, is aesthetically less intrusive to the eye due to its slim and tapered look, and requires less maintenance.  At the tower top, each wireless carrier would have their own triangular platform where they place their antennas and radio equipment, along with amplifiers and an array of cables feeding all the equipment.  A properly designed monopole carries all cables inside the structure, making the cables invisible and favorable in zoning scenarios.
The Concealed Cell Towers
With Concealed Cell Towers, there are no towers to build because the building is the "tower." Afterall, the purpose of constructing a cell tower is to elevate the antennas to the desired height.  Since the building was selected for its height, there is no need to build a cell tower.  However, rooftop sites are more difficult to build because the building was never intended to house heavy telecom antennas and equipment, so structural integrity and loading designs are crucial in all rooftop builds.  Some battery cabinets can weigh 6,000 pounds, making spread loading and custom structural designs more important than ever for property owners.  Additionally, cable trays, antenna growth plans, equipment space, transformer electrical capacity, reasonable building access are some of the factors that influence lease terms most important to property owners.  At Terabonne, we do not allow antenna installations to compromise the aesthetics of our clients' buildings.  By deploying the use of fiber-reinforced plastic stealth designs, we make our new rooftop builds invisible to the public and do not distract from the aesthetics values of the building.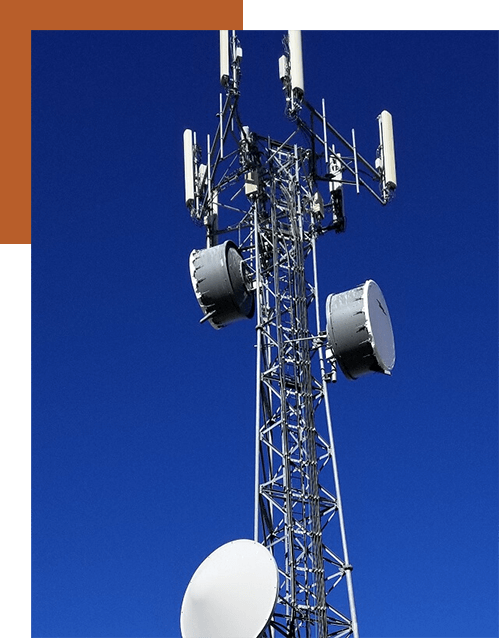 The Lattice Cell Tower
The Lattice Cell Tower, also known as the Self-Support Cell Tower, has three legs and is assembled from hundreds of shorter structural members to make a whole of the tower.  They are cheaper to build, take up more land, and require more maintenance than monopoles because they have substantially more bolts, nuts, and parts that hold them together.  These towers have less wind loading because there is less surface area perpendicular to wind flow, making them structurally more accommodating to wind gusts.  At taller heights, self-support towers are cheaper to build than monopoles.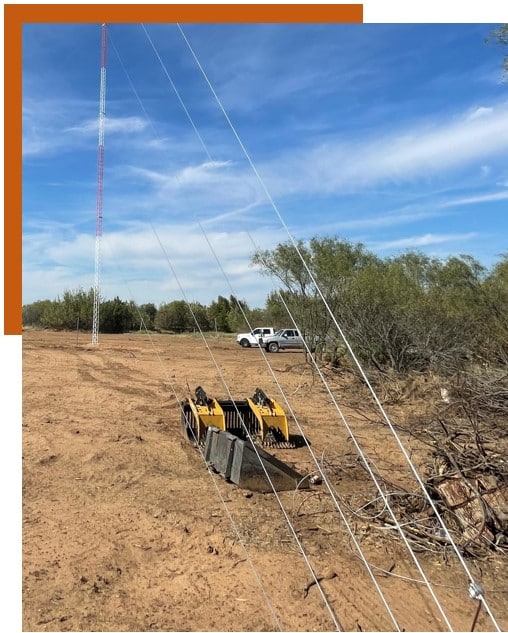 The Guyed Cell Tower
The Guyed Cell Tower is by far our least favored tower type because they take up a substantial amount of land.  This tower is the cheapest to build where availability of land is not a concern (farm land, mountain tops).  Guy tower is a small column of steel members assembled to form a single structure.  It is unable to stand on its own.  The strength comes from the tower being guyed by three anchor points evenly spaced around the tower center.  Each ground anchor point may have up to four connecting points to varying tower heights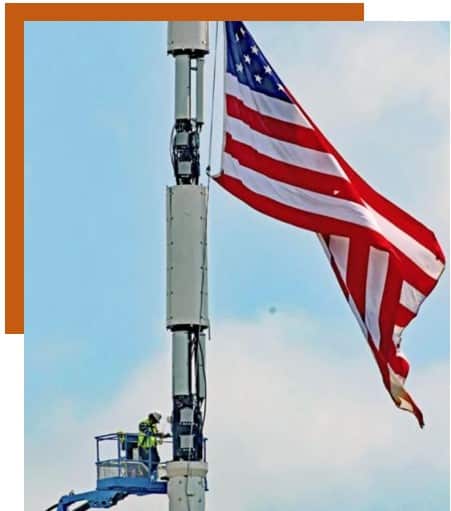 The ​​Stealth Cell Tower
Some jurisdictions do not allow cell towers as noted above.  Instead, they require the towers to be stealthy to hide their presence. 
Flagpole Cell Tower
One such stealth design is to make the cell tower look like a flag pole. The downside is that there is not much room inside the flag pole to house all cables and antennas, making it usually limited to one wireless carrier use only. Another wireless carrier could not share the same flagpole cell tower because there is not sufficient room inside the pole to accommodate additional cables and antennas for a second wireless carrier. Often, these flagpoles end up not having a flag on them, making them look like a white stick on the ground with unknown purpose.
Palm Tree Cell Tower
Cell towers disguised as palm trees are popular in beach communities such as Florida coastal cities or California communities which favor palm trees to blend in with their landscapes. These cell towers are known as monopalm trees or palm tree cell towers. Palm Desert and Palm Springs, California routinely require cell towers to be disguised as palm trees. Palm tree cell towers are expensive to build and only allow one wireless carrier to be on the tower as antennas are designed to be hidden within the fronds of the palm tree. In some cases, additional fronds can be added at a second layer so that another wireless carrier could be added to the palm tree. In this iteration, the palm tree no longer looks like a normal palm tree, but in desperate situations where jurisdictions do not want to allow another cell tower to be constructed, they will permit the palm tree to be retrofitted for a second carrier installation.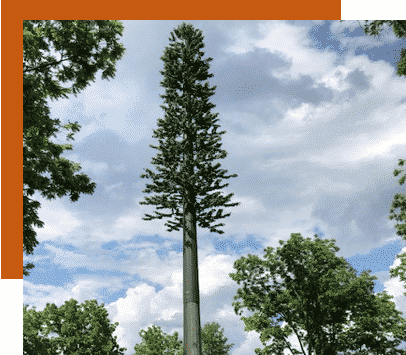 Pine Tree Cell Tower
The pine tree cell tower, also known as the monopine tree, is used in geographies where pine trees and evergreens are part of the standard landscapes, like the Pacific Northwest. Some jurisdictions may even require that cell towers be disguised as pine trees. Since pine trees have branches and needles that run mostly the full length of the tree, this makes for great cover for multiple wireless carriers collocating on the same trees. As with other stealth poles, monopine is more expensive to build and operate. The pine needles are green vinyl segments that are glued on to the fake branches. Highwinds and UV over time will change the branch color and cause fake needles to fall, creating constant operational concerns.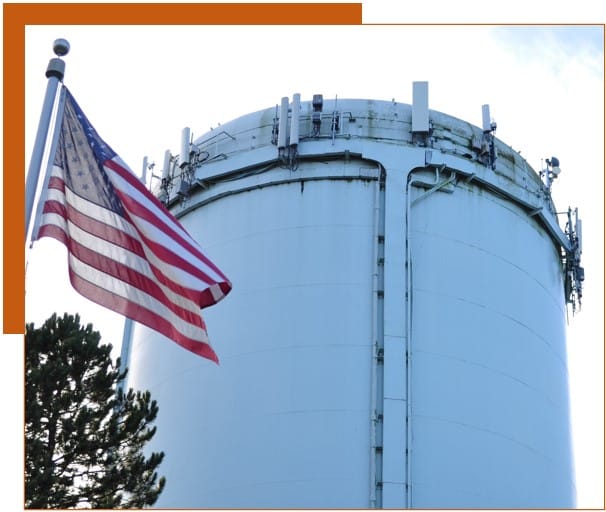 Water Tower Cell Tower
Water tanks rely on gravity to draw water to surrounding residences. Therefore, municipalities install water tanks at the highest locations, and in many cases, those tanks are elevated higher to be the tallest structure around. This happens to fit the cell tower models also, being the tallest structure around. Wireless carriers install antennas on water tanks to create water tower cell towers because they are the tallest structures around, they do not have to build another cell tower, easier zoning approval, and carriers have full 360 degree access all around the tower.
Light Pole Cell Towers
In areas where zoning does not allow the commercial installation and operation of cell towers such as monopoles or even monopine trees, wireless carriers can "sneak" in antenna designs on utility poles in the form of light pole cell towers. These electric or telephone poles are legally allowed to operate in residential zones. While they are not ideal cell towers, in desperate situations where residential areas need cell coverage, wireless carriers will install limited cell antennas on electric and telephone poles. Wireless carriers argue that they are operating like a public utility and have the right to install utility (wireless) equipment on these existing easements. In these situations, the financial beneficiary are the electric and telephone utilities who charge wireless carriers a fee for the use of their poles.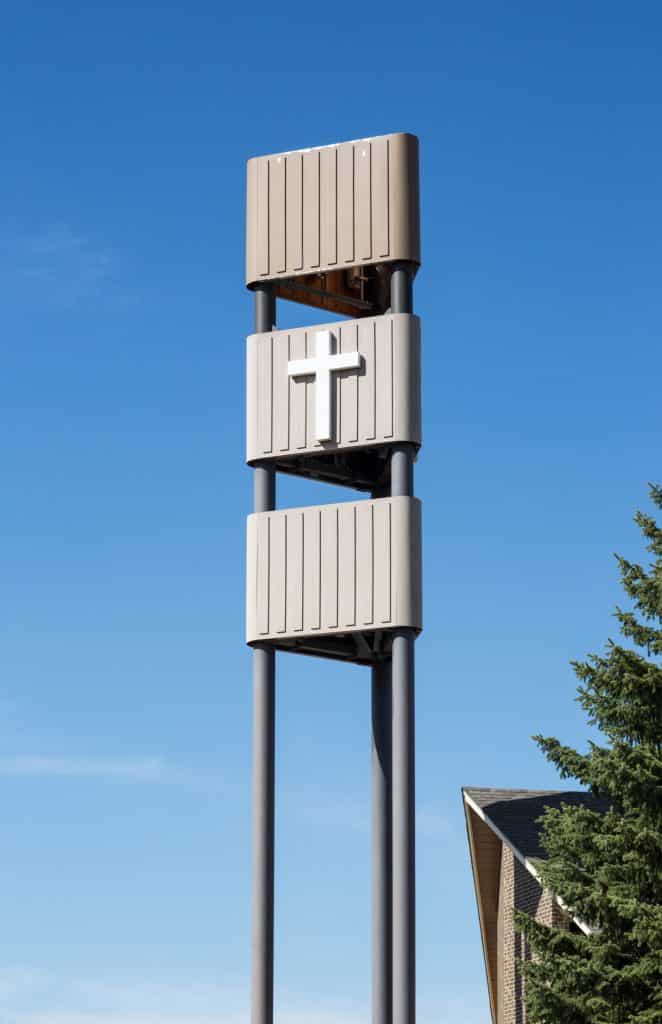 Additional Stealth & Concealed Cell Towers
While the above captures about 95% of all cell tower structures in the country, there are other stealth and concealed cell tower antenna designs that ingeniously hide cellular installations. These include hiding equipment in church steeples, fake rocks, and false chimneys. Custom installations tend to be more expensive and yield less room to grow the antenna arrays. However, wireless carriers will spend the money to develop such sites if they are left with no other options. In these situations, property owners can benefit tremendously if they understand how to read the situation and negotiate rent and royalty fees correctly. Terabonne understands all the wireless design options and introduces them as necessary to the benefit of our property owner clients.
Let's discuss your cell tower opportunity.  We will share with you what we know about your cell tower ground lease.  Never a fee until we agree to work together and we deliver all-inclusive results to your satisfaction.  Unheard of assurance and confidence.  Please email, call or  send us a message anytime.