Testimonial > Written Testimonials
Terabonne comes with decades of hands-on work in engineering, leasing, zoning, construction, and project management of wireless projects. Our true value is the level of professional services we offer to each and everyone of our clients. Here's what some of our clients have to say about their experience with having us on their side. 
Tung Was Incredibly Patient and Professional
"My lease was nearing the end of its term and the tower company kept on pestering me to extend my lease for 50 more years. I was fed up with the decades of abuse they did to my property. They brought in utilities without my permission. They built a short cut road instead of using the access they were permitted in the lease. They put in a generator outside of their leased area. I enjoyed the income. But I did not care for the disrespect of my land. We selected Tung Bui because he knows this business inside out. He put a stop to everything. He made them build me a new access road at the correct location. He made them build a new fence, run new power, and paid me for all the violations they did to my land over the years. It took a very long time for Tung to work through all the technical issues with Crown Castle. We are very happy that Tung is on our side. He is so detailed, was always available to take our calls, patiently went over the construction drawings with us after each change, and explained all the details of each paragraph of the lease to us. In the end, we made so much more money with Tung working with us, and it did not cost us any money because he made us much more than it cost us to pay his company. You don't find a professional like this anymore."
Gayle and Gary Bunker
Delta, UT
Tung Bui Took a Dead Deal And Turned It Into Meaningful Cash Flow
We were contacted by a wireless carrier wanting to place 5G on Bennington College property. We were excited by the opportunity to have improved cell coverage and additional income to the College. Between all the department experts in IT, technology, real estate, finance, and operations, we could not understand the wireless requirements and needed professional help. After interviewing a number of companies, we selected Terabonne because of their wireless expertise and we were impressed with Tung's knowledge in every area we brought up. Once we retained Terabonne to represent us, Tung immediately contacted the wireless carrier to discuss the design and their offer. We were surprised to learn that the carrier only offered to pay us a one-time fee of $4,000 and zero rent forever because the installation would be on a utility easement where no rent would be required by utility easement law. We felt the transaction was dead, but that did not stop Tung. Through Tung's industry contacts, he was able to reach out to AT&T and later Verizon to get them to commit to leasing space on our cell tower. But we do not own a cell tower. Then Tung arranged to have a tower built with significant income to the College. We did receive opposition from the neighboring property owner, there were concerns with the cell tower equipment possibly interfering with the Physics Department's radio telescope, and we had multiple zoning hearings to discuss the project. Tung was involved in the resolution of every one of those issues. Tung initiated planning sessions whereby he brought in AT&T engineering, their real estate representative, AT&T attorney, myself as the College Representative and the tower developer to strategize for the zoning hearings. Through it all, Tung was the central figure who touched every topic relating to the cell tower build. We are very grateful that we retained Terabonne to represent us and credit our cell tower build to Tung's wireless expertise and his tanancity to pursue the project when we all thought it was a dead deal. 
Andrew Schlatte
Vice President of Operations
Bennington College
We own multiple commercial buildings. We hired Terabonne when we were presented with an offer on behalf of T-Mobile to bring wireless to one of our properties, as we were not prepared to take on negotiating the wireless lease ourselves. We were very pleased that Tung Bui took on our case himself. His familiarity with the technology, process, people, T-Mobile, the industry, and cell tower lease rates really showed when he surprised us by negotiating our rent rate up over $1,000 monthly beyond what we were able to negotiate ourselves as the final offer while also obtaining excellent rental increases for us. Not only that, but Tung immediately re-designed our rooftop site because we felt T-Mobile's design was not compatible with our use of the building and nor was T-Mobile's design safe and comfortable for our tenants. Tung spent the necessary time explaining to me why we needed to redesign the system and what the new design should look like while sharing his computer screen with me real-time as he made the design changes. Not only the rent amount and engineering designs were improved by Tung, he also made a number of other changes that made our lease much stronger from my perspective as a real estate attorney, by preserving our rights to sell and manage our property, limiting our legal and liability risks, and reducing the space of T-Mobile's equipment on the roof of our building. He even saved us from having to cut our roof open and structurally reinforced our building to accommodate thousands of pounds of T-Mobile's equipment. The value we derived from having Tung work on our lease negotiations far exceeded what we paid Terabonne to negotiate the wireless lease on our behalf. In fact, we made money by hiring Terabonne. I was also very impressed that Tung had access to industry people, engineers, and information that allowed him to help us in a difficult situation with another one of our cell towers. I am very impressed with Tung's expertise and contacts in the wireless world and suggest that anyone needing assistance with cell tower negotiations reach out to Tung to have their interests protected.
Jonathan D. Gottlieb, Esq
Managing Partner
The Gottlieb Law Firm, PLLC
Rockville Centre, New York 11570
Everything We Could Ask for from a Consultant
My parent's estate contacted American Tower company who was now managing the cell tower on land that had been a tower since 1996. ATC was now actively wanting to extend the contract for 50 years. I was able to put them off for about a year, then they wanted to lower the rent since Sprint was merging with T-Mobile. I had been searching about cell towers and companies who would do the negations for me. Many of the companies I spoke with were lawyers and that is how they viewed the contract. They all claim to have the largest database of rent value and wanted a percentage of our income for the length of the contract. 
On my initial call with Tung, he could tell me right then it was a dominant tower in the area and he also discussed intelligently about all the engineering designs in the area that I could understand. We also spoke about my goals for the negotiations. He was patient explaining which terms were good to change and which ones should not be a concern. His communication was excellent and available whenever we needed him.
Tung did an excellent job getting much higher rent, had them compensate back rent and back taxes because of discovered payment discrepancies. And Tung did a fantastic job getting so many other terms of the contract to our favor.
Terabonne is the company to have in your corner. They are working in the cell tower industry and know who, what and how things work and get the best for you. 
Karen Henke
Cherokee, Iowa
Two months after Terabonne's work was completed for Karen, she called us and asked for assistance with out-of-state tax withholding issues and fixing their direct deposit rent payments. Tung assigned Terabonne's legal team to assist with the project through completion. While this was never contemplated in the agreement with our client, we happily performed the work. Our fee? Nothing. That's why our clients love us. We can connect you to Karen so you can speak with her directly about her experience in working with Terabonne.
Fixed All Issues Along With Lease Extension
I contacted Terabonne after an internet search and found them to be most knowledgeable because its president worked for a wireless carrier in the past and it was logical that they know the business well. I spoke with Tung Bui, who connected me to one of his clients who was only an hour away from me, so I decided to pay him a visit. That client was so proud to share all that Terabonne had done for him, and after giving me a tour of his property and describing all that he has gained for hiring Terabonne, I knew the decision to hire Terabonne was easy for me. While the tower company wanted to extend my lease, they refused to fix the diesel spill on my property, limit their use of the generator, drove all over my property, and kept on cutting my trees. Terabonne took care of everything. Terabonne even got the tower company to write me a check to compensate me for the diesel spills, fixing everything that troubled us for years. And that does not include the much better lease rates for my towers. They found ways to help me make money from my cell towers that I didn't know were available to me. I am now very pleased that I have control over my property now and can rest assured that if ever there's an issue later, I can call Tung Bui anytime for assistance. If you want a true professional who does exactly what he promises and keeps you informed the entire way, you need to hire Terabonne. They are the very best.
Rod Parsons
Santa Rosa, California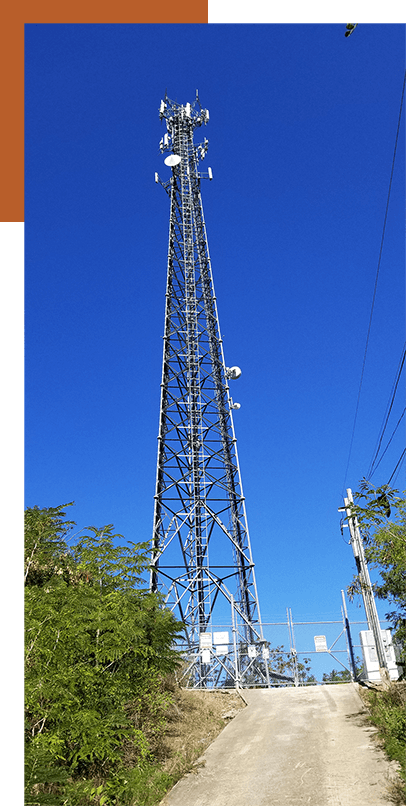 We had a horrible relationship with the tower company because they never paid us any rent but kept on using and destroying our property. American Tower Corporation trucks were always parking on our grass and trespassed beyond the access road. Whenever there's a trespass situation, we call Tung Bui and he would answer the call and we hand the phone to him to speak with the engineer or technician or the truck driver and he would tell them the rules and make them leave. But the wonderful thing is that Terabonne got ATC to pay us rent instead of the people who sold us the property from decades ago. Tung even went to our home and visited our property during a site upgrade to document the work by ATC. He used those photos as proof that ATC did not build the cell tower correctly and the end result is we won. It took years to get what we want as Tung informed us, but we are absolutely pleased that Tung was involved the entire time. Years later, we would talk with Tung frequently as he helped us manage the ATC engineering team designing and installing the sound deadening system to keep the noise away from our home. We consider Tung a friend for life.
Ron and Margaret Cain
Randle, Washington
Special Tower Relocation By Terabonne
We purchased acres of land to build a residential subdivision. We were told that all we had to do was to remove the cell tower and we would get our zoning approval to build 21 homes. While it sounded easy, moving the cell tower was impossible to do. We tried to do this by having our real estate agent work directly with Sprint, but after writing one check after another for engineering, consultants, architects, we got nowhere with Sprint after a year. We then called Tung Bui and once we hired Terabonne, it took like one week for them to design a replacement cell site and convinced the wireless company to move to that new location. Tung continued to work to move the cell tower in every aspect of the project. He knew the people, the engineering work, who to hire, how to cut costs, called meetings, negotiated a new lease, managed the designs, negotiated the termination agreement with Sprint, everything. In the end, the project cost us substantially less money than we anticipated due to Tung's involvement and his contacts in the cellular industry. If it were not for Tung's involvement, the tower would still be standing and we would not have our residential zoning permit yet. 
Golden Estates Corp
San Jose, California
I have one cell tower on my property and one day I received a letter from American Tower Corporation offering to pay me a one-time extra payment of $7,500 for no apparent reasons. The letter I had to sign was really hard to understand as to what I was really agreeing to. I reached out to Terabonne and they did their homework to discover that another wireless carrier wants to come onto my land. Had I accepted that $7,500 offer, I would have given up all new lease revenues for the next 30 years. Tung Bui, Terabonne's president, was the lead on my property. His expertise, immense knowledge of the wireless carrier's leasing process, so confident in the engineering that he knew how much rent to negotiate to, was way beyond my wildest dream.
Tung and his dream team did all the work. Everything. They only called me to update me or ask for my preferences. Otherwise, they did all the difficult work when it came to engineering drawing edits, terms negotiations, lease rent rates, fake tree placement, utilities, construction, Tung was a godsend because he could not be bullied by AT&T.
Tung ran the calculations and showed how much more money Terabonne got me. The Terabonne team helped me navigate through the title issues with my property, strategize with me on how to address the problem with my lien holders, and solved each concern that would have impacted my tower lease.
I run an international technology design and manufacturing business, but negotiating a wireless technology lease is clearly out of my league. Having the first cell tower (a monopine evergreen tree) on my property did not prepare me for the second tower on my land as I had thought. I am grateful I had Tung and his Terabonne team doing all the work for me. I highly suggest any property owners to consider the reality that they will cost themselves a tremendous amount of money if they don't hire Terabonne to represent them like I did.
Tony Ellsworth
Ramona, California
Very Professional and Such an Authority on Wireless
When a man claiming to represent AT&T wanted to lease 10,000 square feet of our land for a cell tower installation, I could not believe it. But we had so many questions. Why 40 years? Why so much space? Is the offer good? What do those legal terms mean? How do you read the engineering drawings? Will this contract prevent me from selling or transferring my land to my children later? Who will maintain the road? Who will pay the taxes? What will this service cost me? Who can help me? In the end, we knew we could not take on AT&T ourselves so we called around. We were fortunate to have spoken with Tung Bui. Not only did he answer every one of our questions on the first call, before we even decided to hire him, he even offered to help if we have follow-up questions. The decision to hire him was easy because he was so knowledgeable on all the questions we brought up, and so responsive. After we signed our agreement with Tung and discussed our plans for the land, he immediately sprang into action and changed the engineering design presented by AT&T. He explained why AT&T's tower design was bad for the long-term use of our property, anticipated the issues for us before we knew they could ever become problems, and redesigned the cell tower location and easements. He presented to us his idea on the new design and why it was to our benefit to make the changes. After we gave Tung our blessings, the following week AT&T presented new engineering plans that incorporated everything Tung asked for. We could not believe that Tung had the foresight, expertise and confidence to do all this for us. We now understand precisely why he did it and the benefits to us. It would take too long to describe everything Tung did for us in this statement. We are extremely pleased that we made the decision to hire Tung because his patience, professionalism, and being a genuinely nice person made our experience a wonderful one. While Tung negotiated a much higher rent for us, we realize now that we received so much more from Tung than just increased rent. Thank you for your help, Tung.
Jerry Russell and Bus Hudson
Boise, ID
Delivering Results Way Beyond Our Expectations
Our historic church is only two blocks from the White House. Abraham Lincoln worshipped at our Church. In recent years, we signed a wireless lease with Verizon to place antenas and electronics on the church's roof. This year, Verizon upgraded the equipment at our church and we felt the impact to the church was greater than we originally anticipated. We contacted Terabonne to seek assistance in understanding our options. Tung Bui graciously reviewed the proposed engineering changes, made suggestions, and agreed to take on the case to help address the engineering changes to our church. However, after reviewing our lease with Verizon, Tung surprised us by making suggestions on many changes in the lease to improve our position. We authorized Tung to negotiate a substantial increase in rent, changed the engineering designs to have less impact to the exterior facade of the church building, substantially increased Verizon's insurance coverage to better protect church property and changed how and when Verizon is authorized to access the church for maintenance work. This is above and beyond what we thought we had hired Tung to do for us. In the end, we received a substantially stronger lease with a surprised rent increase and an engineering design that is more suitable for the church. And what is amazing is that Tung didn't really charge us much money for Terabonne's work in light of the unexpected increase in rent Tung was able to negotiate for us. We are most appreciative of Tung's professionalism and delivering results way beyond our expectations.
Hal Hiemstra
New York Avenue Presbyterian Church of Washington DC
Incredible Consultant Who Went Above and Beyond to Protect My Site
I was approached by an AT&T contractor to place a cell tower on my property. I liked the idea but did not understand if what I was being offered was fair or safe. As a professional contracts negotiator my entire career, I was not prepared to engage with AT&T on this highly technical matter. I found Terabonne by talking to a neighbor 10 miles away who has a cell tower on his property. He told me I must call Tung Bui because he knows everyone in the industry, and every technician, manager, tower climber who has come up to work on the tower and electronics have either worked for Tung, or knows of Tung, from the wireless industry. I was so pleased I contacted Tung. This is one of the smartest business moves in my entire life.
After reviewing AT&T's proposed lease, Tung informed me of the strategy we need to employ to get the highest rent, how I need to take on the less risk because of my future plans for my land. Then he identified the AT&T lease terms we are to eliminate or restrict in order for me to take control of my property. He explained to me why those changes were important to me and my property rights.
Throughout the entire process, Terabonne did not ask for any money upfront. I was very pleased that their contract with me guaranteed me that if I do not make money on this tower contract, they will not charge a fee. Their confidence in getting the lease negotiated at a high rent amount was very refreshing and assuring to me. Tung also worked with AT&T to provide justification for the tower as required by zoning. He knew the zoning code inside and out. And just when we thought we would receive zoning approval, American Tower challenged our site application the very last day of appeal, arguing that my tower is a zoning violation. American Tower even flew in their high powered corporate lawyer from Massachusetts along with their local hired gun Seattle lawyer. They did so because they have a cell tower nearby and wanted to preserve their control in the area. Tung surprised me by attending all the zoning court hearings, offered information, strategies, write-ups, and suggestions to AT&T, their land use consultant and lawyer on how to beat American Tower technical challenges to my site. As Tung was in court throughout the hearings, he texted me with regular updates on arguments and actions throughout the days. In the end, we won! This is my biggest financial windfall of my life.
And when I complained to Tung that I was not pleased with how AT&T was dragging their feet in signing the lease, Tung penalized them by getting me even more rent because of AT&T's delay in signing. Tung played a vital role in helping us win the zoning ruling and negotiated such a high rent amount for my rural farm. If you are contemplating who to hire, you must hire Terabonne.
Gerry White
Randle, Washington
Unbelievable Wireless Expertise and Effectiveness
I negotiated the lease terms with AT&T for building a cell site on my building's rooftop. I know many real estate developers in the Northern California market, and they suggest I contact Terabonne before signing the wireless lease. I feel comfortable negotiating this cell site lease because I own and manage commercial real estate properties. However, after my first conversation with Tung, who made himself available to me on a Saturday, I knew he was the expert we needed to negotiate the entire lease for us. Tung asked about my long-term plans for the commercial property and suggested we change some key lease terms that gave me the flexibility I needed with AT&T. After we retained Terabonne to represent us, Tung took charge immediately. He contacted the AT&T representative to begin his negotiations, sent me email reports on his status and called me to discuss strategies and terms. He came up with suggestions that I had not thought of before, including how to double our rent by changing the engineering designs. Once I understood the logic, I approved the approach and Tung worked out the details with AT&T. AT&T obviously spent a lot of money designing and drawing up the architectural details and immediately pushed back. However, Tung was able to convince AT&T to come along, though they needed some degree of work to convince them to cooperate. Through whatever facts and figures acquired through his company, Tung was able to negotiate substantially higher rent than I ever did. And that does not include his other suggestion to double the rent soon. On top of all this, Tung required AT&T to use his lease instead of starting from scratch with a one-sided AT&T lease. I saw this was an issue with AT&T but they eventually came along. I now understand that not any cell tower leasing consultant can do what Tung did for us. Tung and his team did things that I could not imagine were even allowable or possible with AT&T. I am appreciative of Tung's professionalism he displayed and the amazing results he delivered to us because his service did not cost us any money.
Jeffrey Mar
Sunnyvale, California
Terabonne's work is multi-dimensional and not limited to just leasing because we know all the moving parts to make a cell tower project operate, including the tenant's obligations under the lease and how they impact our clients. Knowing the wireless industry personnel, leases, engineering, and operations allow us to move effortlessly within the wireless industry to the benefit of all our clients. If you have an opportunity, or an issue, involving a wireless cell tower or rooftop site on your property, please contact us and let us look at the design together to see how we can be of assistance to you. It costs you nothing for discussing and assessing your situation with us.